Have you recently relocated in Brighton and are trying to set up your electrical appliances in your new home? Electrics on Tap can provide quality assistance to help professionally set up your home's wiring!
Our services are available to all residents of Brighton and we can help you effectively install your television and entertainment system. We can also help install new phone joints. And if it's a case of you wanting to change your TV or phone connection to a better room or position we can help you effectively and neatly set it up in little time. Talk to us now on 01273 723 600 to discuss your electrical needs and get a free quote.
Installing your TV for optimal viewing pleasure
Are you displeased with the current set up of your television? Would you like to get something better? Electrics on Tap can fully satisfy your wiring and TV installation needs. If you are unsure as to what room or position will be best to relocate your TV, we can offer expert guidance that will provide a solution that's guaranteed to optimise your enjoyment of your TV. Contact us and let us know what sort of TV you own. Once your appointment is confirmed, we will promptly send over one of our highly trained technicians to satisfy your needs.
Our electricians are polite, highly trained, and work with only the best possible tools to guarantee that you get quick yet long lasting results from our services. We also deliver our services neatly and all wiring will be tucked out of sight and out of the way. Contact us now on 01273 723 600 to make an appointment and receive safe and secure installation from electrical experts you can trust.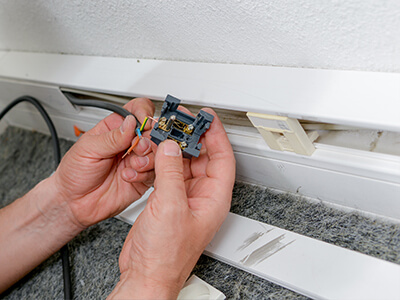 Phone socket installations to heighten the convenience of your Brighton home
Many of our Brighton clients contact us to help change their phone sockets or install new ones. We come highly recommended because our technicians are some of the brightest and most polite you can find in Brighton. If you are dissatisfied with your current telephone wiring, contact us today and get an upgrade to heighten the convenience of your home. We can provide our services in any room in any location in Brighton that you need it.
We only work with the highest quality electrical products to ensure we deliver long lasting solutions to your phone wiring needs. We also work fast and neatly to ensure you can begin enjoying the benefits of our installation as soon as possible.
---
Get the TV and Phone socket wiring you need today!
Electrics on Tap has the competence to provide you superior quality TV and phone socket wiring services with impressive results. Our services are fairly priced and you are guaranteed that our technicians are available to serve you at a time that is most convenient for you. Our wiring installations are discreet, neat, and tidy, and our workers are polite and respectful. Get quality electrical services that you need today at the right price from professionals you can trust. Get Electrics on Tap on 01273 723 600.
Have you recently moved home and you are now short of phone points? Or do you just need them in better positions? We can install new cabling to wherever you choose, and conceal it professionally.
---