Electrics On Tap has a simple mission: to provide Brighton & Hove and surrounding areas for domestic clientsof all sizes, a transparent and trustworthy service for electrical installations, repairs and & maintenance. Aiming to constantly give high level quality of service, workmanship and affordable prices to everybody.
The company was re-named & re-branded under On Tap Property Services Limited, adopting a new logo but maintaining the customer focused pledge made to its existing customers of Plumbing on Tap which started in 2006. The business has grown to include other compliance services including: Plumbing & Heating, Electrics domestic & commercial. Fire Alarms on tap covers many different areas including inspection reporting (fixed wire testing), emergency lighting testing, fire alarm testing and electrical maintenance.
The company has gone from strength to strength, offering addition services and continually growing.
On Tap Property Services Limited is a well overdue response to an industry that is dogged by years of underperformance, bad reputation and public suspicion. As anyone knows, finding a service company is one of the most daunting tasks of managing the household. Finding a reliable and trustworthy company is almost considered utopia.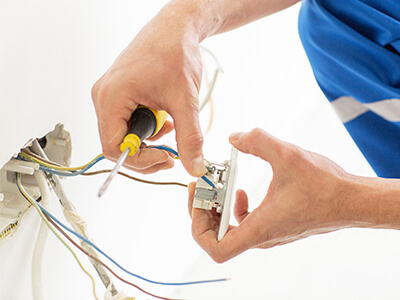 We, at On Tap Property Services Limited, decided to do something about this by designing a powerful team of electricians, plumbers, heating engineers, fire alarm operatives and property maintenance builders.
The network is protected by a high standard required for admission and equally high level of qualification and certification required on an on-going basis. All electricians that handle our installations and maintenance are fully qualified.
The bar not only is high upon entry, it is constantly being raised. This is done through ongoing feedback solicited from our customers directly to our management team and from check a trade.
As well as our online community boards where you, the customer, can post your positive, and negative, experience with your fire alarm operative.
Electrics On-Tap is managed by a group of experienced electricians, with complementing areas of expertise to ensure that our network addresses all relevant aspects of the electrical industry.
At the heart of our operation we have a dedicated office, with a quick automotive service so you get connected to the correct department quickly. Our staff is fully trained by professional engineers to deal with your related issues and would be delighted to help find the most qualified and capable operative to attend to you as soon as possible. For non emergency calls we can normally book a visit same day or next day.
Our powerful database systems allow us to develop and constantly improve our service for customers. We constantly trawl our sophisticated software for feedback and immediately identify pockets of weakness. Our employees are the best performers and work together as a team; this is your ultimate guarantee of quality.