Electrics on Tap is highly qualified in carrying out electrical inspections on both residential and commercial buildings in the UK. Every building owner is mandated to perform this routine electrical installation inspection between one to five years, depending on the building and its purpose.
Most times property owners focus on PAT testing and forget that installed wires, circuit boards and other hidden electrical systems need to be inspected as well. The electrical inspection process also called Fixed Wire Testing involves physical inspection of installed wires in the building, disconnection equipment as well as mains board, circuit breakers, sockets etc., after which a series of electrical tests on the entire electrical system is carried out.
In carrying out inspection of your electrical system, we require the electrical schematics of the building. If this is unavailable we will need to do some circuit and wire tracing to enable us get a visual understanding of your building's electrical layout.
Conditions that pose an instant threat to occupants and the environment are reported to the duty holder and treated immediately within reasonable service. Any issues requiring considerable man hours or replacements can be handled by our team upon request by the duty holder.
The duty holder is anyone using the electrical system, the maintenance team, or the owner/management of the property.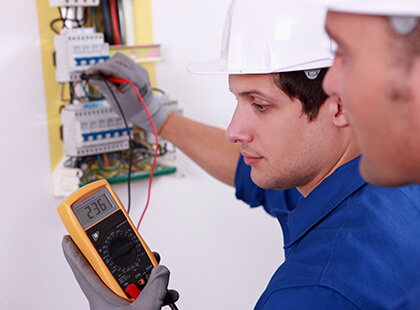 For new installations or replacement, we issue an Electrical Installation Certificate. And for routine inspections and testing on already existing electrical installations, we issue an inspection certificate if the electrical systems passed. Where the system fails a test, a report is prepared detailing the equipment, test carried out, result and recommendations/possible solutions.
While ensuring your safety by performing these inspections periodically to reduce risk of an electric accident, we also ensure our testing is not invasive so that we do not cause inconvenience to workers or home occupants. Our team of experts ensure these tests are carried out at off peak times for the best experience and results.
The Electricity at Work Regulations 1989, mandates all commercial and rented buildings to apply measures to curb the risk of electrical accidents that could lead to injury or death. Hence, the duty holder must be informed of the need for periodic Fixed Wire Tests and inspections.
Wondering how often you need to carry out these checks?
For personal accommodation, ten (10) years or upon change of occupancy.
For rented or leased accommodation, five (5) years or upon change of occupancy.
For office buildings, five (5) years or upon change of occupancy.
For laboratories and general clinics. five (5) years.
For hospitals and healthcare cities, five (5) years.
For religious establishments and community centres, five (5) yeas.
What to expect from Electrics on Tap
Electrical installation certificate for new installations or alterations (e.g. new consumer units)
Periodic inspection report, certificates for existing installations (e.g. Landlord certificates)
Testing and inspection is essential when an existing installation is ageing, faulty or a new installation is being finished.
All non-domestic electrical installations should be subject to a fixed plan of testing and inspection to comply with current legislation. You must ensure that all necessary precautions are taken to reduce the risk of injury or death through electrical breakdown.
There are many good reasons for implement periodic testing. You may need to arrange inspection and testing to comply with the IEE Wiring Regulations 17th Edition. Or if you have recently obtained ownership or rental of business and you may wish to ensure the installation is safe. If you suspect there is a fault or risk of a breakdown, you must take steps to arrange for urgent inspection.
Periodic inspection and testing should also be considered if, it is required by a governing body or specific directive from for example, local authorities, landlords or insurance companies, etc.
We recommend all homes are periodically inspected every ten years, rented accommodation every 5 years or whenever you deem necessary due to change of use. We can come in and perform a thorough inspection and testing process on all existing circuits and we provide you with a detailed electrical report on the status of your property.
---