Electrics on tap have many benefits for domestic customers some of which are as follows:
Fast rapid response times
Proud members of Check a trade, you the customers get to have the say on your experience with us and Plumbing on tap from start to finish. To date we have 100% recommendation from over 130 domestic customers.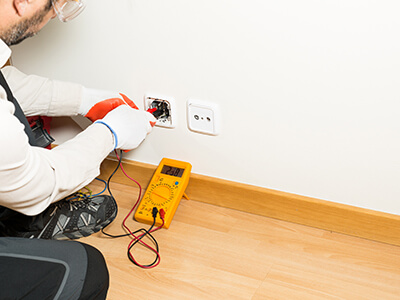 Affordable prices
On the hour appointment times! You don't have to wait in all day with Electrics on tap
For diagnostics and repairs we charge only £30 + VAT and that includes up to one hours labour
Plumbing on tap large team of electricians means we cover all aspects of domestic electrical work.
No job is too small
Electrics on tap and all its employees respect your home and treat it as if it was their own.
We thrive on helping everyone and try our best to keep the costs to a minimum!
Frequently asked questions and answers about electrics and law
1. What is Part P of the Building Regulations?
In 2005 the Government introduced electrical safety rules into the Building Regulations for England and Wales. Because of this, most fixed electrical installation work carried out in homes must, by law, meet the Building Regulations.
Part P states that anyone carrying out electrical installation work in a home must make sure that the work is designed and installed to protect people from fire and electric shocks. Part P applies to newly-built homes and to any changes made to existing installations, including any parts that have been rewired.
You can find full details on Part P on the Communities and Local Government website, www.communities.gov.uk.
---
2. What electrical work is covered by this law?
All electrical installation work in a home, garden, conservatory or outbuilding must meet the Building Regulations. Apart from some types of minor work, all electrical work must either be reported to the local-authority building-control, or be carried out by an electrician who is registered with one of the Government-approved scheme providers.
---
3. Who is responsible for making sure that electrical work meets the requirements of Part P?
By law, all homeowners and landlords must be able to prove that all electrical installation work meets Part P, or they will be committing a criminal offence. Local authorities can make homeowners or landlords remove or alter any work that does not meet the Building Regulations.
---
4. What do I need to do before electrical installation work can be carried out in my home?
You must either:
Tell your local-authority building-control about the installation work before it starts; or
Employ Electrics on tap who is registered with NICEIC
We recommend that you use a registered electrician to do any electrical installation work.
The advantages of using a registered electrician are:
You will not have to pay any building-control charges sometimes in excess of £100.00
Electrics on tap will deal with everything for you;
Electrics on tap will arrange for you to receive a certificate that confirms the work meets Building Regulations;
You can choose to take out an insurance-backed guarantee when you have the work done, and you can make a claim if the work is later found not to meet Building Regulations.
---
5. What does Part P of the Building Regulations mean for me?
If you use us at Electrics on tap, you can expect to have safe electrical installation work done, as the work will meet the UK national standard, BS 7671 (Requirements for Electrical Installations). When the work is finished you will receive:
An Electrical Installation Certificate or Minor Works Certificate that confirms that the work meets BS 7671; and
A Building Regulations Compliance Certificate that confirms that the work meets the Building Regulations.
Your landlord is not responsible for paying call outs when problems are caused from simple user error by the tenant. An example may be not turning the power on, or not having gas or electricity paid on a pre paid metre to supply the property.
---
6. Is it important who carries out electrical installation work in my home?
Yes. Electrical installation work must be carried out only by people who have the knowledge, skill and experience needed to avoid danger to themselves and others. All of our team are fully qualified to put your mind at rest.
It's easy to make an electrical circuit work – it's far harder to make the circuit work safely. We strongly recommend that you use a registered electrician to do any electrical installation work you need.
Electrics on tap believes that prevention is better than cure and offer comprehensive electrical Periodic Test for your home. The electrical test certificate lasts ten years which is great peace of mind. If you are moving home the certificate will help identify any potential problems before they become an emergency.
Are you purchasing a new home and want peace of mind that the properties electrics are in good order? We'll check every aspect of your new home's electrics from the fuse board, wiring to lights and sockets. Then we'll give you our recommendations if any, including the cost of any work you might choose to carry out.
---