Electrics On-Tap provides comprehensive interior and exterior new lighting installation services for homes and businesses in Brighton and Hove and the wider Sussex area.
We have a team of highly-skilled commercial and domestic interior and exterior lighting professionals, with years of experience in the installation of wide-ranging lighting systems. We always work according to NICEIC-approved standards and are Part P Safety qualified. Our customers also enjoy exceptional service at every turn.
Effective and Inconspicuous Exterior Lighting Installations in Sussex
Since inception, we have helped many homeowners in and across Brighton and Hove and nearby areas to bring their exterior lighting dreams to life.
We have commercial and exterior domestic lighting installers that are experienced in the delivery of reliable and effective lighting, that will beautifully illuminate the external areas of your property.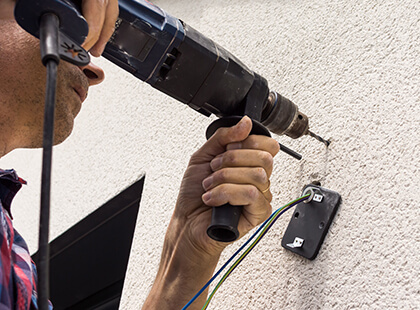 Whether you are looking for practical or visual effects with your new lighting, you can count on us to deliver. All exterior lighting fixtures are weatherproof and tested for functionality by our team of highly skilled electricians.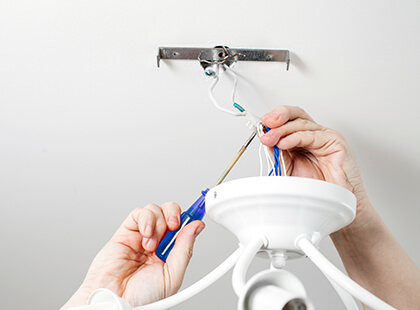 Energy Efficient Interior Lighting Experts in Brighton and Hove
As an environmentally conscious company, we take pride in the fact that we are one of the trusted names you can count on when it comes to the provision of energy efficient interior lighting in Sussex.
We perfectly understand best practices and are constantly in tune with the times, in terms of energy-efficient lighting technology. Do you want energy-efficient interior lighting that lives up to your aesthetic tastes? Look no further. Let us help you cut down energy costs and consumption.
---
Emergency New Lighting Installation Experts in Sussex
Emergency lights are an important fixture in any commercial environment. Let our electricians professionally install the perfect emergency lighting system for you. After installation, you will never again have to worry about power cuts or lighting in the event of an accident. Our emergency lighting installers have worked on numerous projects across the Sussex area and beyond.
To learn more about our domestic and commercial lighting services across Brighton and Hove, get in touch with our Customer Service Desk today.
---
Frequently Asked Questions on New Lighting
How big should the new light fixture be?
This is dependent on your specific needs. For a small living room, a single fixture on the ceiling is enough to properly illuminate the room. For your sleeping area, a ceiling fixture can also work, but with dimmer lights to ensure a more relaxing atmosphere. Looking to light up your home office? More powerful lighting will be required to reduce eye strain while working. For the best results, get in touch with us here at Electrics On-Tap to discuss your new lighting project. Our experts are capable of meeting aesthetic and practical needs.
What are the different types of lighting installations available?
When it comes to light fixtures, your options are numerous. You will always be spoilt for choice, regardless of what your new lighting needs might be. The installations range from chandeliers and pendants to sconces and recessed downlights. From table-lamps and solar lanterns to LED lamps and buffet lamps, our experts can supply and install them all. We can also install vanity lighting, foyer lighting and more. We do this while sticking to regulatory requirements.
What is the duration for a new lighting installation?
Fixing new lighting can be completed in hours, even for medium-sized projects. However, the wiring and switches mean that it may take up to a day for the project to be completed, as checks have to be run on the installation. Other factors that can affect the duration of the new lighting installation include the location of the installation (hard to reach areas take longer) and the complexity of your specifications. At Electrics On-Tap however, we take pride in our ability to give a deadline and stick to it. You will know how long it will take to complete your project during the consultation phase and we won't fail you!
What will it cost to complete a new lighting fixture?
Apart from the cost of supplies and our fee, one of the main factors that can markup the cost of your new lighting is the condition of your wiring. In some cases, rewiring may be required, which will add to the timeline for projection and increase overall costs. Similarly, if floorboards next to walls have to be loosened, the subsequent repair work can add to the cost of installation. The overall cost will also be affected by the length of time we spend on site and the type of lighting fixture you have opted for.
However, you don't have to be worried about the cost of your new lighting fixture installation. In Sussex, we have made a name for our transparent pricing policy. We rarely go above the agreed quotes and whenever there is a need to do so, we make sure you are fully kept in the loop.
---
Why Choose Electrics On-Tap for Your New Lighting Installation in Brighton and Hove?
We have been operating in Brighton and Hove for decades, serving the main Sussex area and beyond. In that time, we have built a stellar reputation, based on the quality of our services and our commitment to exceptional customer service. Our reliability is one of the main reasons why we still enjoy referrals from past and present customers to date. When you choose Electric On-Tap, you are going with a company that can boast the following:
NICEIC-approved and duly accredited

Qualified and experienced experts

A vibrant Customer Service Desk
Quick response

Free quotes

Guaranteed backed service
Get in touch with us today for your lighting installations – ranging from interior lighting, inconspicuous exterior lighting, emergency lightings and expert installation. Call us right away to discuss your new lighting needs.