Outdoor lighting to illuminate and beautify your property
Electrics on Tap has installed outdoor lighting for several Brighton homes and we would like to bring the same services to your property. More and more Brighton residents are having outdoor lighting installed not because of only their beautifying effect but because they are also a great way to secure your property.
Instead of your property having a dark and unappealing look once it gets dark, we can install cost effective lighting to brighten your property's premises. Our services are available to all residents of Brighton and we deliver quick, effective, and competitively priced electrical solutions. Call us now on 01273 723 600 for an ideal long lasting solution to satisfy your outdoor lighting needs.
External Sensor lights – Garden lighting
Let Electrics on Tap highlight the beauty of your garden with external sensor lights. The beauty of external sensor lights installed by us is your garden will be fully lit whenever you need it to be. Our garden lighting installation services also save you money because rather than have your garden lit all through the night even when no one's there, the lighting only comes on when its sensor is triggered. This sensor system ensures that there is no energy wastage and your utility bills do not go through the roof.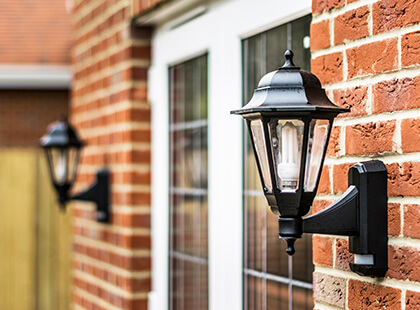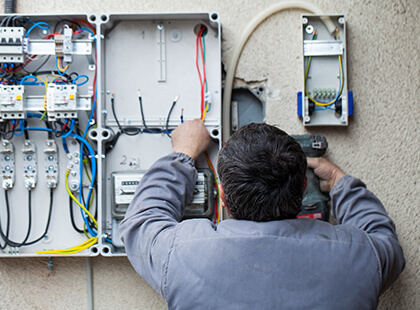 Call on us for that much-needed upgrade
Are you thinking of modernising your lighting system or would you like to upgrade your lighting system to more energy efficient lighting, but are not sure where to start? Here at electrics on top, we will advise you on the most appropriate kind of lighting for the results you are looking to achieve. We will help you find the exact options that fit your budget, style, and requirements. Whether you are looking to get some rewiring done, upgrade your switches and outlets, or are in need of energy efficient luminaires, we are ever ready to deliver.
To further guarantee that you enjoy the full benefits of garden lighting at low costs, we can install energy efficient LED lights. Present day LED lights are not the same as they were 10 years ago when they were dim and not entirely effective. LED lights are now one of the most sought after lighting bulbs on the market. Not only are LED lights bright and cost efficient, they are also durable. Electrics on Tap only uses the highest quality products when serving our Brighton customers so you are guaranteed of the best possible results from our garden lighting installation services.
Another benefit of letting our experts install external sensor lights for your premises is they also serve a security function. Once a trespasser steps onto your property under the cover of darkness, the sensors on the garden lighting will immediately activate and shine the lights on the trespasser. This can be a very effective way of deterring would be burglars.
To enjoy these benefits and more from having garden lighting installed by our highly qualified technicians, give us a call today on 01273 723 600.
---
Exterior power supply (e.g. to shed)
Our technicians can also help effectively wire your property to ensure you have access to electricity anywhere on your grounds you need it. Exterior power supply can be delivered to various locations outside your house, such as the shed, poolside, the garage, the patio, the driveway, and so on.
Get electricity where you need it in your home, when you need it with experts from Electrics on Tap. Our technicians are highly trained and work with only the finest tools to ensure you get the best possible results from our services. For any enquiries or if you would like to arrange for a visit from us, contact us now 01273 723 600.
External Sensor lights Garden lighting
Exterior power supply (e.g. to shed)